---
BLIPS
British Lupus Integrated Prospective System
Key Benefits
Software tracks Patients Health, Well-Being and Medication
Monitors five internationally recognised indices -

BILAG
SF-36
SLICC
SLAM-R
Selena Sledai

Provides Patient database with demographic data analysis
Provides patient questionnaires and live data capture screens
Provides storage for Clinical assessments, Lab results and Medication dosage
Monitors laboratory results, in Biochemistry, Haematology and Immunology
Records treatment drugs and non-treatment drugs.
Monitors patient well-being in Musculoskeletal, Neurological, Cardiovascular, Vasculitis Mucocutaneous, Renal, and General categories
Graphs category scores, lab results and drug dosage over time.
Powerful filtering and searching based on clinical assessments.
Share or compile data with collaborating clinics.
Single PC or network versions
Password protection for data security
Patient data stored in separate tables from patient names assures confidentiality.
Example Data Entry screen for SF-36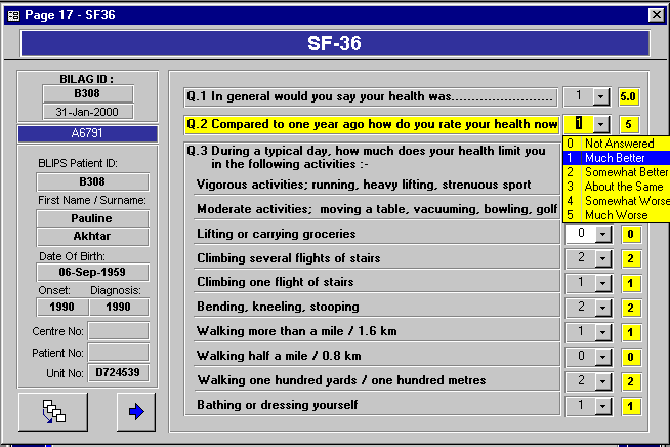 Based on the items which are recorded as being present a clinical score is calculated for each of the 8 systems. The BILAG index scoring system has been derived by considering what features of SLE usually prompt a physician to increase disease-specific therapy (steroids or immunosuppresants).
It is not the intention of the score to dictate treatment decisions.