Limathon.com
The newsletter of ADS - LIMATHON Ltd, UK
April 2002 Edition
Contents
NEWS

Feature: Websight

RAID at Siemens

Web Submission

1000th User Registration

Web Site Optimisation
ISO9000:2000

and ISOmanage

UPDATES

SOPManage in the NHS

BLIPS for Lupus

NEW RELEASES

Latest versions

Column Manager 6

Flexible friendly products
Lima Administrator
RAID Pilot at Siemens
Siemens Business Systems are extending a pilot project to trial ADS-Limathon's 'Issue Manager™' product. A customised version known as 'RAID' (Risks And Issues Database) is currently being implemented across multiple sub-programmes of the Pathfinder programme. Currently around 30 project staff are managing their risks and issues using RAID. The SBS Audit and Risk Management team in Blackpool are closely monitoring the pilot, and hope to ultimately extend the roll-out to cover one hundred users, in five programmes, across four UK sites. SBS have now developed a complete new process for Risk and Issue Management based on RAID, and this is now being deployed to project managers at the SBS National Savings account in Blackpool, Glasgow, Durham and London.
ADS Limathon have been working with Siemens Business Services for over a year now and have also designed and implemented a Programme Office Management database, handling data from over 200 projects. By importing data extracts from Essbase (financial system) and consolidated MS Project Plans, within minutes the system can generate up-to-the-moment task and finance graphs for the entire programme. The database information, is deployed using intranet also designed and implemented by ADS-Limathon, allowing data, graphs and reports to be viewed by Project and Programme Managers on IE5 browsers, at all four UK sites. ADS-Limathon is now working on a new financial application integrating project resource and financial forecasts (ETC) with budgetary spend (Actuals) for the SBS Programme Office.
Stop Press 24th March 20002.................
Demo files for Issue Manager / RAID Version 1.30 are now available to download in Powerpoint and Adobe Acrobat formats.
1000th User Registration
The 14th of February 2002 saw ADS-Limathon's 1000th customer registration. Amazingly, we now have user registrations from 51 different countries around the world. In case you are wondering, the 1000th registration was part of the large 'RAID' installation at Siemens in the UK. The USA is still the biggest market (38%) which is remarkable considering not used a US for five years ! The spread of our products across the world is purely down to the Internet. In recognition of this, all new ADSL products will have e-mail registration capability in future. As you would expect most of our support calls outside the UK are already e-mailed to us.
ISO 9001:2000
ADS-Limathon Limited were audited for the first time under the new ISO9000:2000 system. ADS-Limathon have held ISO 9001:1994 since 1999 and are pleased to announce that they are now accredited under the latest guidelines for ISO 9000:2000.
ISOmanage™ and SOPmanages™ in ISO9000
A cornerstone to the latest accreditation is ADS-Limathon's own products ISOmanage™ and SOPmanage™. ISOmanage™ holds all the data associated with a quality customer oriented business process for sales and production. It brings together contact management, enquiry handling, order processing including quotations and invoicing, production records, QC testing, user registrations, annual support contracts, and customer support issues. SOPmanage™ is used to generate, control and manage the Standard Operating Procedures which make up the ISO quality system.
SOPmanage™ in the NHS
ADS-Limathon are delighted to announce a joint venture with Mr Brian Owen of Medi-Lab Ltd. Brian is already one of the most industrious users of SOPmanage™, controlling over eight hundred SOP's which are the backbone to his CPA accredited clinical laboratory business in Salford Quays and Macclesfield. Brian will now provide SOPmanage consultancy and set-up services in the UK to National Health Service laboratories.
Brian stated " The CPA Accreditation inspectors were extremely impressed with Medi-Lab's documentation – in fact they even stated it should be presented to the CPA as the gold standard. Much of this is due to the SOPManage™ programme. " Brian believes there is a huge market for SOPmanage™ in the NHS laboratories and was pleased to propose the joint venture with ADS-Limathon. SOPmanage™ will be available from ADS-Limathon and from Medi-Lab. Brian, with his immense practical experience of SOPManage™, plus in-depth knowledge of the SOP's required for CPA accreditation, will provide set-up and training consultancy services, tailored for NHS laboratories. ADS-Limathon will provide technical support to both Brian and the end –users.
SOPmanage™ was designed specifically to handle the SOP process in clinical and pharmaceutical labs. The automated numbering system and version control enable SOP administrators to create new draft procedure documents in MS Word. Copies for approval can be easily emailed to reviewers and once finally approved it can be released into the system immediately or in a controlled manner, sometime in the future. Older SOPs are automatically lapsed, so the viewer clients only ever see the current release. SOPmanage™ also provides scheduling and reminder facilities to users when document review dates approach and when drafts are overdue for release. Drafts and copies are printed as controlled documents with watermarks.
HPLC Column Manager™ Version 6.0
A major column manufacturer once described this software as "the ultimate computerised tracking system for HPLC columns". ADS-Limathon are pleased to announce the new version 6.0 of HPLC Column Manager™. This Windows™ database solution comprises an inventory specifically for HPLC columns and provides relational storage for recording audit trail on all your HPLC columns, as well as informational items such as suggested use, restrictions on use, user identification, dated performance history, and validation test results and chromatograms. New features in Column Manager Version 6.0 are the abilities to store multi-component column tests and record multi-component column validations. New graphing options allow graphing of any performance parameter by test and by analyte.
Related HPLC reference databases are included, providing data at a click, on over 1800 columns, 4000 applications (optional) and HPLC troubleshooting databases, HPLC Column Manager™ can be used with all brands of HPLC columns and is compatible with all Windows™ based chromatography data systems. The new Version 6.0 of HPLC Column Manager™ will start shipping in April 2002. Special upgrade packages will be available to existing users of Column Manager 3.0, 4.0 and 5.0 shortly afterwards.
A special vote of thanks to Column Manager users Tony Polletta at Boeringer (USA) and Trevor Chapman at Pfizer (UK) who helped to identify improvements necessary for CM v6.0.
Still Using Column Manager v3.0 or v4.0 ?
Version 5.0 gave chromatographers an improved user interface with much faster and more flexible navigation. Besides the standard version 3.0 functionality of column inventory, and column audit trail, new features have been added. All screens now have custom menus. You can copy the details of an existing column for a new record. A built in calculator will convert your column measurements into theoretical HPLC factors, a reference chromatogram can now be stored and improved graphing.
LIMA™

Administrator Version
Continued development of LIMA v4.0 and collaboration with Nestle in Switzerland has resulted in a brand new Administrator version of LIMA for network users.
Charlotte Gancel of Nestle explained "We have twenty pc's in labs around our site all using LIMA. Each PC can have multiple analysts or technicians accessing the programme each day. LIMA has good security, and GLP procedures are observed which prevented the alteration of stored data. It was becoming a major headache to control typographical errors, misnomers and the data inconsistencies between departments."
ADS-Limathon's managing director , Gordon Hamilton, conceded " LIMA has become a victim of its own success! It was designed originally as a single PC system and quickly adapted for small networks. While the system is functioning perfectly at Nestle, with over 60 users, we had not considered the burden placed on an administrator of such a large system.
Armed with Charlotte's requirement specification and the under the guidance of Nestle Quality Manager, Mr Hugh Hose, ADS-Limathon set about to develop the new Administrator version of LIMA.
The Admin version features are entirely invisible to non-Administrator users but provides an extra eight screens of Analysis, Editing, Adding and for the first time Deletion for Administrators. All these functions have automated audit trail denoting original data and the new data. New screens are provided for Administration of users and security, plus a new listing each users responsibilities for instruments. This is proving invaluable in a staff rotation environment.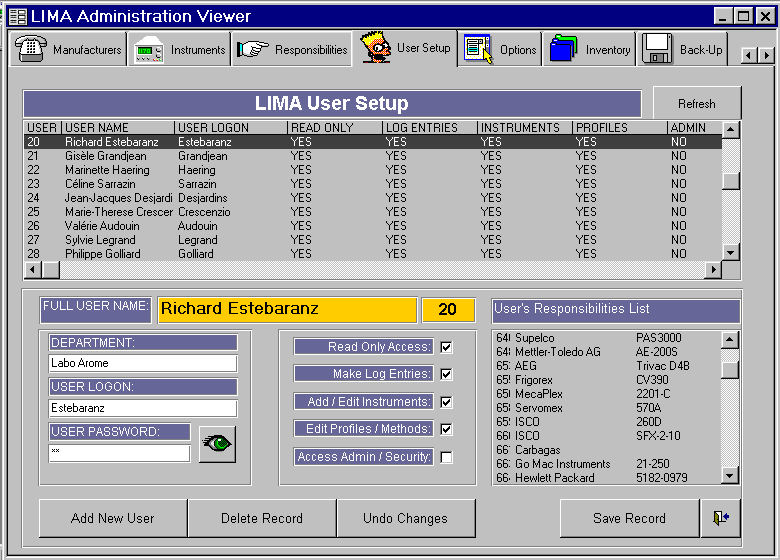 Future LIMA developments planned include versions for Access 2000 and XP, followed by an instrument training records database, recording level of skills and authority of users. Electronic signatures for FDA CFR 21 compliance are also planned for coming year.
WebSight
Website Submission and Optimisation
A good website is the international shop window for all aspiring companies. Most companies now have a good website but many are left wondering why few new customers visit and why search engines sometimes never get around to 'spidering' their website. Even when they do, their listing is never very high and then it slides downwards !
Have you ever tried searching for your site using a keyword in the way your customers would? Are you horrified that unknown competitors list higher than you, or you don't even list at all? Then read on……
Recently ADS-Limathon did an exercise for a top hotel situated on a championship golf course in Scotland. The hotel name consisted of the town name and 'Golf Hotel'. Despite having a good quality website, to their amazement, searching on their own hotel name listed several bed and breakfasts and smaller tourist hotels, above their own listing! Worse still, many engines only listed the hotels competitors.
This is a common occurrence. Most search engines have limited intelligence to distinguish the 'good sites' and use several different algorithms to assess the position of a site in their listings.
All search engines require your site to be submitted to them in the first place. Even after submitting them they can take a few days to several months to list you. Some have even started charging £50 - £300 for the privilege of accepting your listing on a single site, without guaranteeing any position. It only takes 20 other cash rich companies to pay up, or horror of horrors, others get a higher listing without paying, and you can see your paid inclusion slide to a listing on page three. Lets face facts, who goes past the second page of a search results? Most people will redefine their search after scanning page one and two.
Once submitted, there are various rules which apply. Some engines are dependent on the number of keywords matching the search string, but others will reject you if you list too may keywords or repeat them ! Many search engines read the META-tags, again rejecting repeated use of keywords. Others engines search out text in the description, page title, or even in the body of the text. Some even check to see who else links to your site. None of them interpret images, so if your name is a graphic gif, it will be missed entirely. Even when you do get listed, engines can drop you after 30 days! So how do you get to the top and stay there ?
Essentially, web design is only the first stage of an internet web site deployment. The secret to a successful web site lies in search engine optimisation and submission. ADS web developers have honed the skills required to optimise web pages to obtain high listings on major search engines. We have also have automated web submission, and keyword analysis software which can search almost 300 international web engines for your site against specific keywords.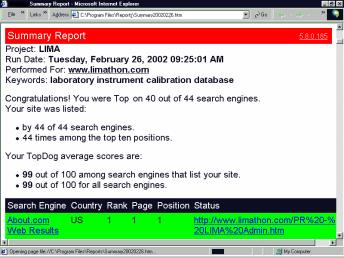 The above example report shows the results of a generic search for ADS-Limathon's LIMA product using the keywords "laboratory instrument calibration database. Forty search engines now place ADS-Limathon at number one for this search, and a further four in the top ten. None of these listings are paid inclusions.
If you need your web site designed, redesigned, hosted, submitted, analysed or optimised then contact ADS-Limathon now.
History of BLIPS
The British Lupus Integrated Prospective System, or BLIPS as it is known, was the result of four years collaboration between British Isles Lupus Assessment Group (BILAG) and ADS. Since the Eighties, the BILAG group has been monitoring thousands of patients with the autoimmune disease Systemic Lupus Erythematosus (SLE). Many authoritative clinical papers have emanated from the group and they have documented a complex index for assessing and controlling the disease. For ADS, the project started out in 1996 as a simple data migration of a legacy BILAG database into MS Access 2.0. Such is the power of Access, it ended up four years later as a highly sought after tool for Lupus researchers worldwide.
BLIPS Version One was released exclusively to the Bilag group in 1998 as a direct replacement for their old DOS BILAG database. It included a completely new GUI interface for the Bilag index – monitoring of eight clinical systems – mucocutaneous, immunological, vascular, haematological, cardiovascular, biochemical neurological, musculoskeletal, and added new functionality recording of medication drugs and laboratory results.
BLIPS Version Two in 1999 added two further internationally recognised indices – SLICC and SF-36. Graphing of results was introduced to the functionality, and the product became a network client-server application.
Blips Version 3.0 was released worldwide in 2000. This added two more indices, SLAM-R and Selena Sledai. It was recoded in Access 97 and a 100-page user guide and helptext were added. BLIPS 3.0 is now in use in major universities and hospitals throughout the UK, USA and Canada and as far a field as China, Korea, Australia and the Philippines.
Future developments will include upgrades to Access 2000 and XP, and merging patient details, lab results and medication records into an e-mail report for automatic dispatch to GPs.
Current Software
Versions/Revisions
BLIPS v3.0 Revision 3.08

RAID v1.0 Revision 1.30

Column Manager v5.0 Revision 5.12

Column Manager v6.0 Revision 6.00

LIMA v4.08

LIMA Administrator v4.08

SOPmanage v3.0 Revision 3.4.0

New templates available for Word 97 2000, XP

Reference Manager v2.0 Revision 2.0
Upgrades to the latest software revision are available free of charge to users who have current LimaCover Contracts. For users who do not have current contracts but would like the latest software revision, there is a charge.
Major software version upgrades are available at a discounted price to users with current LimaCover contracts.
Flexible Friendly Products !
ADS - Limathon are now pleased to offer the facility to purchase products and services using most major credit cards.

Orders are still accepted by providing a Purchase Order, Cheque with order, or by e-mail. Delivery is generally within 7-10 days unless customisation is required. Payment terms are 28 days from invoice date.
ADS-Limathon Ltd
3 Ringwood Road
Sheffield, S20 2DG, UK
Tel: +44 (0) 114 251 0820
Fax: +44 (0) 114 247 5771
Web: www.limathon.com