---
BLIPS Practice Installation
The BLIPS Practice installation allows users to practice using the software to register users, enter and edit patient data within BLIPS. The Practice Version must not be used to store real patient data. Licence conditions and copyright apply.
Installation Summary
Insert CD

Select Practice

Allow BLIPS Practice installation to complete
Detailed Instructions
1. Insert CD and allow a few seconds to auto-start.
2. Select the following Menu Options :
a. Installations
b. I agree
c. Practice
d. Practice v4.0
e. OK
f. Directory:
Ensure that the installation will be installed to directory:
C:\Program Files\BLIPS 4 Practice\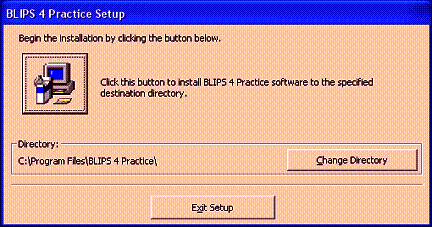 Non–English computers may default to other locations, if so; use Change Directory to set C:\Program Files\BLIPS 4 Practice\
g. When Directory: reads C:\Program Files\BLIPS 4 Practice\ the click the large square button with the computer icon to install
h. Choose program group: Default is BLIPS 4 Practice, Click 'Continue'.
i. Version Conflicts Messages :
i. Msjtes40.dll Select Yes to keep existing file
ii. All Others No To All to overwrite existing files