Contents
NEWS
Ionasys Collaboration
i-BLIPS
FEATURE
History of BLIPS
NEW RELEASES
BLIPS Version 4.0
LIMA Version 6.0
Column Manager 6.0
UPDATES
Latest versions
Ionasys Collaboration
ADS-Limathon Limited are delighted to announce a collaborative agreement with Ionasys Incorporated. In a reciprocal agreement Ionasys will act as sales agents for ADS-Limathon in the USA, while ADS-Limathon will act as sales agents for Ionasys in the EEC. Ionasys will also provide offshore software development options to enable Limathon to bring products to market more quickly and cost effectively. The first product announced from this collaboration is i-BLIPS.
i-BLIPS
In a further agreement, ADS-Limathon have been working with Ionasys Incorporated to develop a web enabled version of BLIPS, to be known as i-BLIPS. Based on the BLIPS 4.0 calculation algorithm, the product retains many of the familiar features of BLIPS, but instead of being MS Access based, it is written in Java, and runs TOMCAT and a MYSQL database, located on a hosted server. This will be initially aimed at Clinical Studies but it may also prove valuable to collaborating clinics such as BILAG and SLICC. It provides the Study Organisers all the major benefits associated with internet applications, including a central database and a simple front end deployment in Internet Explorer. No installation on the users PC is required. After the user has been registered in the database, it is a simple task of entering the web address, and logging on with a user name and password.
The development is progressing well and a 'Proof of Concept' product is already available for demonstration. The next steps involve testing the calculation algorithms in order to validate the software before it can be deployed to a secure server for use in a live study.

History of BLIPS
The British Lupus Integrated Prospective System, or BLIPS as it is known, is the result of 10 years of collaboration between British Isles Lupus Assessment Group (BILAG) and ADS. Since 1984, the BILAG group has been monitoring thousands of patients with the autoimmune disease Systemic Lupus Erythematosus (SLE). Many authoritative clinical papers have emanated from the group and they have documented a complex index for assessing and controlling the disease. For ADS, the project started out in 1996 as a simple data migration of a legacy BILAG database into MS Access 2.0. Such is the power of Access, it ended up four years later as a highly sought after tool for Lupus researchers worldwide.
BLIPS Version One was released exclusively to the Bilag group in 1998 as a direct replacement for their old DOS BILAG database. It included a completely new GUI interface for the Bilag index – monitoring of eight clinical systems – mucocutaneous, immunological, vascular, haematological, cardiovascular, biochemical neurological, musculoskeletal, and added new functionality recording of medication drugs and laboratory results.
BLIPS Version Two in 1999 added two further internationally recognised indices – SLICC and SF-36. Graphing of results was introduced to the functionality, and the product became a network client-server application.
Blips Version 3.0 was released worldwide in 2000 allowing non-BILAG clinics to obtain the tool. Version 3.0 included two more indices, SLAM-R and Selena Sledai. It was recoded in Access 97 and a 100-page user guide and helptext were added. BLIPS 3.0 is now in use in major universities and hospitals throughout the UK, USA and Canada and as far a field as China, Korea, Australia and the Philippines. During
2003-2005 several clinical studies were conducted using BLIPS 3.0
BLIPS Version 4.0 was released first released in a bespoke Clinical Study version in November 2005.
It has since been used introduced in more studies in 2006. Changes included improved security and audit trail for FDA CFR21 compliance. Demographic data screens were replaced with Patient IDs. Sign off reports were introduced, along with the ability to automatically email them to the Study Control centre. A system admin function was introduced to allow Study Organisers to define which functionality would be available to clinics during trials. Further development has enabled BLIPS 4.0 to be released in June 2006 as a standard product release, rather than restricting it to Clinical Studies.
BLIPS is now in use in over 30 countries around the world, and since release around 200 users have registered their copies.
LIMA™ Version 6.0
The industrial diversity of the LIMA customer base continues to motivate us here at ADS-Limathon.
LIMA Version 4.0 and its Network Administrator Version was the result of collaborative work with food and confectionary giant, Nestle, in Switzerland.
LIMA Version 5.0 , the Service Base version, was a developed in collaboration with DP Services a petrochemical instrument maintenance company in Scotland. This version was specifically designed for use by Instrument Maintenance companies and includes a customer database and is still available.
And now LIMA 6 has been developed in collaboration with the National Thermal Power Corporation in India.
The new version has increased FDA 21CFR compliance with electronic signature validation and stricter logon, and complete audit trail. Enhancements specified by NTPC included improved calibration settings allowing automatic generation of calibration points between the upper and lower limits, based on either % of upper value, or % of Range. The concept of Master Calibration Instruments is also catered for, along with improved sign off reports. Other improvements designed by ourselves were focused on enhancing the Admin sections introduced in version 4 and extending the use of tab screens to the instrument record card.
<![if !vml]>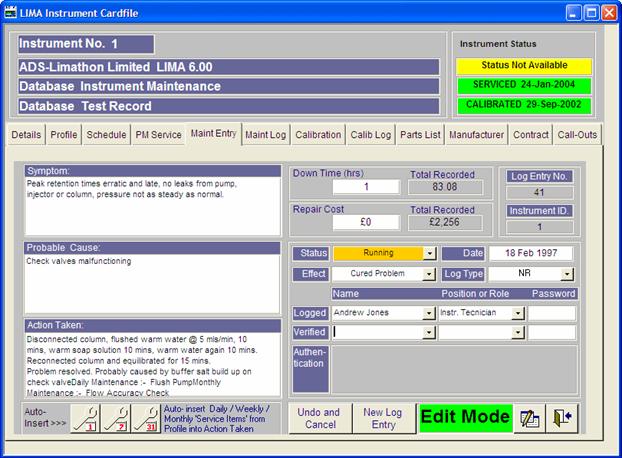 <![endif]>
ADS-Limathon Managing Director, Gordon Hamilton, commented : "LIMA had grown from a simple and easy to use instrument log database into a very complex and flexible instrument management solution. The challenge was to increase the complexity yet again, retain the flexibility to support divers industries, but streamline the user interface to improve ease of use and user navigation. Early comments from customers suggest we have achieved this. LIMA has been around now for 10 years so its a fantastic accolade to hear its still a top solution. The introduction of features required by the power industry is already paying dividends as the International Atomic Energy Agency based in Vienna has committed to purchase LIMA for over 20 atomic power stations in Africa. Equally satisfying is the knowledge that while LIMA was originally designed for the Laboratory industry ten years ago, it has been reshaped to support food, petrochem and electricity industries, but it has retained its support in its native sector. Last week a new customer at A.P. Pharma, (USA) told to us last week that after reviewing all the products on the market, LIMA was by far the best solution for her Pharmaceutical Laboratory."
International Atomic Energy Agency is the latest in a long list of valued internationally famous customers using LIMA, which includes the US Navy (at Pearl Harbour), Esso, Exxon, Heineken, Pfizer, Procter & Gamble, Nestle, General Electric (to name a few !).
For the technophiles LIMA Version 6 is available with Access XP Runtime as a stand alone PC version. Network versions will require Access XP. Access 2000 and 2003 versions are also available upon request. The upgrade route from LIMA 2000 or LIMA 4 involves data migration which ADS-Limathon can provide upon request.
The above example report shows the results of a generic search for ADS-Limathon's LIMA product using the keywords "laboratory instrument calibration database. Forty search engines now place ADS-Limathon at number one for this search, and a further four in the top ten. None of these listings are paid inclusions.
If you need your web site designed, redesigned, hosted, submitted, analysed or optimised then contact ADS-Limathon now.
A major column manufacturer once described this software as "the ultimate computerised tracking system for HPLC columns". ADS-Limathon are pleased to announce the new version 6.0 of HPLC Column Manager™. This Windows™ database solution comprises an inventory specifically for HPLC columns and provides relational storage for recording audit trail on all your HPLC columns, as well as informational items such as suggested use, restrictions on use, user identification, dated performance history, and validation test results and chromatograms. New features in Column Manager Version 6.0 are the abilities to store multi-component column tests and record multi-component column validations. New graphing options allow graphing of any performance parameter by test and by analyte.
Related HPLC reference databases are included, providing data at a click, on over 1800 columns, 4000 applications (optional) and HPLC troubleshooting databases, HPLC Column Manager™ can be used with all brands of HPLC columns and is compatible with all Windows™ based chromatography data systems. The new Version 6.0 of HPLC Column Manager™ will start shipping in April 2002. Special upgrade packages will be available to existing users of Column Manager 3.0, 4.0 and 5.0 shortly afterwards.
A special vote of thanks to Column Manager users Tony Polletta at Boeringer (USA) and Trevor Chapman at Pfizer (UK) who helped to identify improvements necessary for CM v6.0.
Version 5.0 gave chromatographers an improved user interface with much faster and more flexible navigation. Besides the standard version 3.0 functionality of column inventory, and column audit trail, new features have been added. All screens now have custom menus. You can copy the details of an existing column for a new record. A built in calculator will convert your column measurements into theoretical HPLC factors, a reference chromatogram can now be stored and improved graphing.