---
Full Installation
BLIPS Installation for New Sites Only
Warning:

Selecting 'Full Installation' option can overwrite existing data.

If the user has already entered data in BLIPS do not reinstall.

Use the 'Upgrade' option.
Installation Summary
Insert CD

Select Installation

Allow installation to complete

Details of changes may be found in the BLIPS Version 4.05 Release Notes
Detailed Instructions
1. Insert CD and allow a few seconds to auto-start.
If the CD does not auto-start, then use Start - My Computer and locate the CD drive
Double click the BLIPS_40505_Aspreva.exe (Application)
2. Select the following Menu Options :
a. Installations
b. I agree (Network)
c. I Agree (Licence)
d. Full Installation
e. Version 4.05
f. OK
g. Directory:
Ensure that the installation will be installed to directory:
C:\Program Files\BLIPS 4 Aspreva\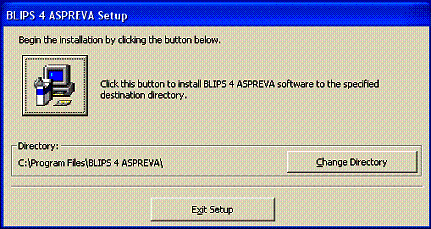 Note: Non–English computers may default to other locations,
If this occurs, use Change Directory to set C:\Program Files\BLIPS 4 Aspreva\
If C:\Program Files\BLIPS 4 Aspreva does not exist this file can be created by clicking on change directory and creating new file.
h. When Directory: reads C:\Program Files\BLIPS 4 Aspreva\ the click the large square button with the computer icon to install
i. Choose program group: Default is BLIPS 4 ALMS, Click 'Continue'.
j. Version Conflicts Message : (Note :There may not be any)
k. Select Yes to keep existing files if any conflicts exist
l. Note: When Upgrade has been completed, after logging into BLIPS, a new registration will be required. Please complete registration form and send back to ADS-Limathon (fax number and email address provided on registration form). You have 21 days to register.