Cleaning Up the Users Desktop Menu after Upgrade
After performing the upgrade additional new shortcuts will be created alongside any older shortcuts.
Whilst there is no danger attached to the older shortcuts – e.g. after the upgrade BLIPS 4.04 shortcut will actually start BLIPS 4.05 - this can create confusion with the user and provides an untidy and confusing menu system
The obsolete shortcuts will refer to BLIPS 4.03 or BLIPS 4.04.
The new shortcuts are generic (no version number) or refer to BLIPS 4.05 as shown (below)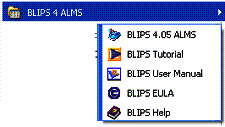 To remove old Shortcuts:
1. On the users desktop, at the bottom left, select START
2. Select All Programs
3. Select BLIPS 4 ALMS
4. Right Click on short cut for removal e.g. BLIPS 4.03 ALMS
5. Select Delete
6. Repeat steps 1-5 to remove other obsolete shortcuts.

If you accidentally delete a new short cut, reinstalling the UPGRADE will restore it