Our Mission
ADS-Limathon Limited develops high quality IT software solutions using Microsoft Developers Toolkits. The focus of our business is to provide high quality, user-friendly, database solutions and consultancy services to major IT Programmes, Pharmaceutical Clinical Trials and the Laboratory industry. Through liaison with customers, we aim to make our products and services exceed our clients specifications and customers expectations.
Our Motto
"If its worth doing - it's worth doing well"
Our Products
Our desktop products are developed in Access XP/2003 and will run on Windows 95/98/ NT4/2000/ XP/2003, or Windows Vista without the need for any version of Access to be installed. All products are PC based and can be purchased for stand-alone PC installation or to run as client-server applications on most networks.
Our internet products are developed in Java and MySQL and are commercially hosted on enterprise class dedicated servers which are backed up daily. They are designed to work with Microsoft Internet Explorer or Mozilla Firefox browsers. They required no further application software to be installed at the PC.
Our Accreditation
ADS-Limathon Limited was awarded ISO 9001:1994 for software design, development, production, marketing and support in 1999. The most recent audits by Quay Audit Ltd to IS09000:2000 standards in 2005, 2006 and 2007 were passed with no exceptions.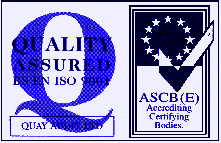 ---