---
USER LOG ON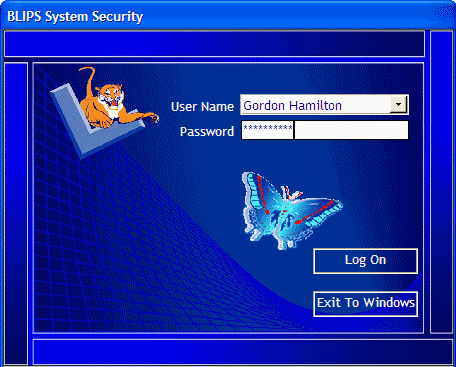 The program has a built in security system, allowing access privileges to be allocated to individual users. When supplied, the program has only two user logons stored – namely 'ADMIN' and 'SYSTEM ADMIN'

USER ADMIN

When supplied, the program has a default accounts called ADMIN and SYSTEM ADMIN.
The SYSTEM ADMIN account has been preconfigured for ALMS and can not be accessed by users or Admin
The ADMIN account is used for setting up user log-on accounts for BLIPS.
Full User Name – 'Administrator'. Can be changed to a named person

Logon - 'Admin' . Can not be changed

Password – 'Admin'. Should be changed to increase security.

The password can be reset by ADMIN or SYSTEM ADMIN accounts.
Please ensure that your ADMIN passwords are secure and that they do not get lost or forgotten.

The BLIPS User Log-On name can NOT be changed for ADMIN. However the Full User Name should be changed to reflect the names of the Administrator and the System Administrator.
ADMIN can only be used for administering the set up of additional users. ADMIN can not be used to add patient assessments.
You must use the ADD NEW button to create other User Log On Accounts for your normal BLIPS usage.
Please ensure all fields are completed, including the site code.