---
BLIPS Registration and 21 Day TimeLock

Registration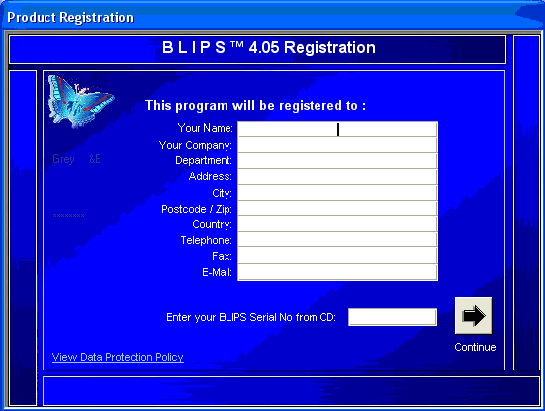 On running the program for the first time, you are required to complete the registration screen (above) and to return a printout of your registration details (next screen) to ADS-Limathon Ltd.
We realise this may be a minor inconvenience or annoyance to the user but there are four reasons for this.
We need to know who the registered users are to prevent security breach, and prevent unauthorised users trying to obtain passwords for your database from ADS-Limathon.
We need to know who the registered users are to provide support. In the event of program improvement or bug fixes ADS-Limathon can update and upgrade users.
ADS-Limathon need to identify our users to comply with ISO9000:2000. We need to know who the registered users are.
It allows short-term evaluation but prevents unauthorised long-term abuse of licence.

21-day TimeLock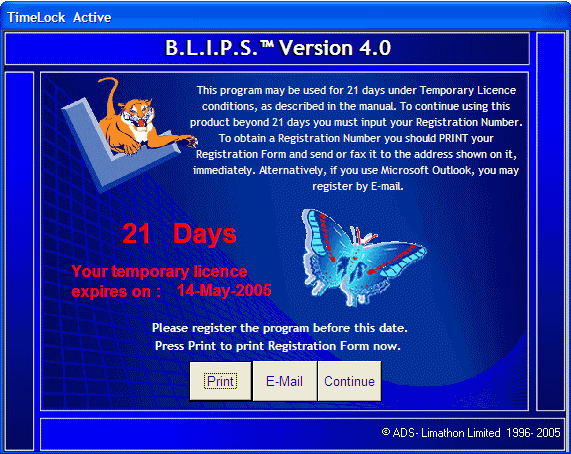 After completing the Registration details screen, a 21-day TimeLock is made active. You have unrestricted use of the program for 21 days. During this time you must fax or send the Registration Form to the address shown. You can print the Registration Form at anytime, from the above screen whenever you log-on, or from the About button on the main menu.

When the Registration Form is received by ADS-Limathon, you will be issued with a Registration Number that will unlock the program (TimeLock) permanently. This will also disable the start-up dialogue and messages, allowing quicker loading.
WARNING: The TimeLock is real! The program will fail to run after 21 days unless it is registered.

Bypassing the TimeLock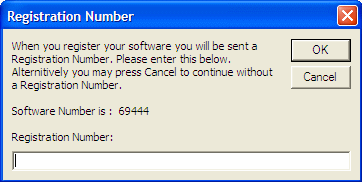 When you start to use the program, you can bypass the TimeLock by pressing Cancel. This allows you to use the software for 21 days on a temporary licence, essentially giving you 21 days to register your copy. Each time you run the software you will be given the opportunity to enter (or bypass) the code. After 21 days the software will not run until you enter the code. Do not reload the software after 21 days as this will result in unrecoverable data errors and all data will be lost.

Simply obtaining your code will allow the software to run normally. You cannot reload the software after you enter the Registration Number.
A new licence and Registration Number will be required for subsequent installations.