---
Running Multiple Copies of BLIPS on the Same PC
If required, it is perfectly safe to run BLIPS Version 3 and BLIPS Version 4 from the same PC, since they use different file names and installation defaults.

However, it is likely that many clinics may require to run multiple copies of BLIPS 4, in order to support internal patient care or patient studies, plus several external Clinical Trials such as ALMS. Care should be taken, since installing a second or subsequent copy of the standard BLIPS 4.00 will overwrite the previous installation, previous menu icons, and even previous data, if the defaults are not changed. Even if the defaults are changed, the Start Menu on the windows desktop would still be overwritten.
ADS-Limathon has anticipated this scenario and has worked with Clinical Trial Sponsors to provide customized installations and applications for different trials. Each Clinical trial installation will install by default to its own directory, have its own Menu group and unique data file name and location. The Application will also be customized to display the Study name on the Main Menu, ensuring that you know which copy you are working with.
BLIPS for the ALMS study will install to C:\Program Files\BLIPS 4 Aspreva\
ALMS Study should be started from BLIPS 4 ALMS shortcuts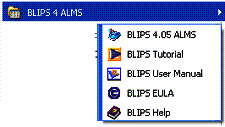 Standard BLIPS
If you purchase a copy of BLIPS for your Clinic to monitor your patients you will purchase the standard Version of BLIPS 4.0
BLIPS 4.0 (Standard) will install to C:\Program Files\BLIPS 4\
BLIPS 4.0 (Standard) would be started from BLIPS 4 shortcuts
Other Studies
If you are purchasing another copy of BLIPS to support another study then please advise at the time of order, and an appropriate version will be shipped to avoid installation conflicts.
Licensing
Please remember if you are installing more copies of BLIPS, that each installation of BLIPS requires the a separate license.